Westwood Baptist Church was created in 2016 with the merger of Calvary Baptist Church of West Des Moines and Southtown Baptist Church of Des Moines. God worked miraculously to bring two churches, both with great legacies, together as one. Westwood has a new and exciting opportunity to reach the fastest growing part of the Des Moines metro area. The histories of both churches are given below:
Calvary Baptist Church
Calvary Baptist Church was planted in 1981 in West Des Moines. Seeing a great need for a Bible-preaching Baptist church in the West Des Moines area, founding pastor, Don Ballard, was assisted in canvassing West Des Moines by mission students from Faith Baptist Bible College in Ankeny. In its early days, Calvary Baptist Church met in two houses, and in rented space in two West Des Moines schools.
On November 8, 1983, a group of Baptist pastors met to recognize Calvary Baptist Church as a "duly organized Baptist church."
In 1984, Calvary Baptist Church was given a gift of $80,000 for construction of a new church building. A grant was also provided by the Oldham Little Church Foundation, and a loan was obtained from Baptist Builders. Land was purchased on South 60th Street, then a rural area just outside West Des Moines. In 1990, church building construction began. The building was erected by Proline Buildings, with help from Continental Baptist Builders, and volunteer laborers from surrounding Baptist churches. The new building was officially dedicated in September of 1992.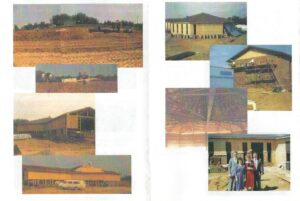 Church Building Construction 1990
The following pastors served at Calvary Baptist Church:
Don Ballard (founder, 1981 to 1995)
Richard Flemming (interim, 1995 to 1996)
Douglas Rowe (1996 to 1999)
Richard Flemming (interim, 1999 to 2000)
Tom Rosekopf (2000 to 2004)
Dr. Robert Domokos (interim, 2004 to 2005)
Kevin Subra (2005 to 2006)
Justin Kauffman (2007 to 2009)
Joshua Farrell (2010 to 2014)
Lars Wessberg (interim, 2015 to 2016)
Southtown Baptist Church
Southtown Baptist Church had its beginning in the basement of Don Rife, on Christmas Day, 1960. There were about 75 persons in attendance. Lawrence Daugherty served as interim pastor. For a time, church services were held in the old Army chapel at Fort Des Moines.
Fort Des Moines Chapel
In the spring of 1962, a lot was purchased at SE 5th and Payton, on land newly annexed into the city of Des Moines. $45,000 was raised through the sale of bonds, and construction was started on a new church building. The Southtown building was sold to the Des Moines Karen (Burmese) Baptist Church in 2016.
Southtown Baptist Church Building, 1962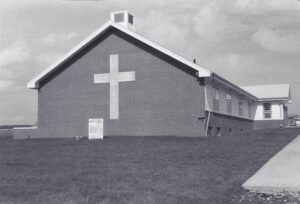 In 1962, Southtown called Archie Veltman as its pastor. Pastor Veltman was a dynamic speaker, and the church saw tremendous growth during Veltman's ministry. Pastor Veltman hosted a daily Christian radio broadcast, and for a time, Southtown's facilities were used for the Des Moines Christian school. Pastor Veltman
retired in 1972.
The following pastors served at Southtown Baptist Church:
Lawrence Daugherty (interim, 1961 to 1962)
Archie Veltman (1962 to 1972)
Gordon Perry (1973 to 1976)
Bob Renaud (1976 to 1981)
Warren Jernstad (1981 to 1982)
Archie Veltman (interim, 1982 to 1983)
Bernie Payne (1983 to 1989)
Jim Chamberlain (1990 to 2008)
Patrick Nath (2008 to 2016 merger)